Welcome to Mike's World of James Bond 007!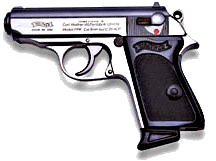 The ever-famous Walther PPK.

Check out the webpage of Tomorrow Never Dies!
In case you have not guessed, the James Bond film series is my favorite of all time. Not only do I like the plots, but the exotic locations are fantastic, the women are gorgeous, and, best of all, Q's gadgets put the icing on the cake! If you would like to see a movie clip with some of Q's gadgets and other Bond scenes, just click right here!Ê Here are a few of his gadgets, or toys, as I call them: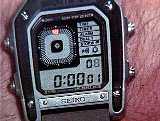 The radio directional finder used by 007 in Octopussy to locate the Fabergé egg.

The laser gun used by 007 in the hit movie GoldenEye.
Seiko watch worn by 007 in Moonraker, which naturally carried a portable explosive for blowing off the door of anything!
Oh well, I guess that's enough about gadgets. You can watch all of the movies like myself, or go to the following site for much more info: Universal Exports.net.
Ever wanted to become a member of an INTERNATIONAL 007 fan club? Go to thejamesbondfanclub.co.uk to find out how you can become a member!
How many different Bonds can you name? Want to know more about them? You'll find out many tidbits you never knew at mcs.net/~klast/www/bond.html or at Universal Exports.net.
I'll bet you think you're a 007 expert, eh? Well, to prove your worthiness, take the James Bond Quiz!
Ê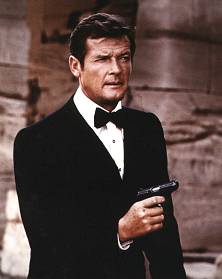 "A vodka martini; shaken, not stirred!"
Back to Mike's Homepage

Last Edited by Mike Haynes on 3/18/98