Welcome to Mike's webpage!!!

Pour la version en français,veuillez cliquer ici!




---
Who am I?
My full name is Michael John Haynes.

I currently hold the Bachelor of Arts degree from Xavier University, Cincinnati, Ohio, with a major in French and a minor in Classical Humanities (the Classics dept. will hopefully have a website soon!).

I am a 1995 graduate of Saint Xavier High School in Louisville, Kentucky. The school is administrated by the Xaverian Brothers.

I previously worked for the Kroger company (about 3 1/2 years), and I am currently seeking a full-time position which requires usage of my bilingual skills (most likely secondary or junior-college level teaching), and I will be attending graduate school starting Fall 2001 to continue my studies in the French language, hopefully at one of the following schools: Université Laval (Québec) (my top choice at the moment, as my Canadian section below will testify), Indiana University (Bloomington), Penn State University (University Park), or the University of Louisville.

I have a great passion for all languages. In addition to French, I have also studied, in order of proficiency, Spanish, German, Latin and Russian (self-study). I also know many words from various other languages, and I have the ability to identify other languages by their script. Check out Mike's brand new language page.

And now I would like to introduce you to a great friend of mine whom I used to date, Aimie Kathleen Trumbly, of Placerville, California, where she presently lives. She attends college at Linfield College in McMinnville, Oregon, from where she will be graduating on May 28, 2000. She is the sweetest person I have ever met, and is very intelligent. I met her while studying abroad in Avignon, France, and we began dating while visiting Paris on October 24, 1998. We dated for about a year and a half. She will be returning to France in October, 2000, as a Fulbright Scholar to teach English to lycéens (high-school students) for about 6-7 months. She will be attending Indiana University upon her return next year.

---
My Spare Time
I am a member of the Alliance Française de Cincinnati and the Alliance Française de Louisville.

In 1995, I travelled to Russia with a group of students in high school, spending one week touring Moscow and St. Petersburg. I also recently completed a semester abroad in Avignon, France, which will be explained later (perhaps on a separate page). I am a very avid traveller.

When at home, I participate as an Assistant Scoutmaster with Troop 194, BSA, and I am an Ordeal member of Talligewi Lodge WWW 62.

I also love to read magazines and books written in the French language, as well as translating texts into English and/or French.

I am currently living with my parents in Louisville, Ky., that is, until I can afford to move out.

Other webpages: Ted Langdon & Santipat "Pump" Arunthari.
---
Study Abroad Program- Avignon, France
I recently completed a four month study abroad program at Le Centre d'Etudes Françaises - Institut Américain Universitaire in Avignon, France. I not only participated in order to help me in my major (French), but I also participated in this program to help me in the future, to experience how others live, and to gain a broader sense of what it is like to live in another culture and to breakdown communication barriers amongst the people of the world. I am therefore going to dedicate an entirely separate page describing my experiences in Europe, with photos to come later. Click here to discover the wonders of studying abroad.
---
My life at home
My hometown is Louisville, Kentucky, home of the Kentucky Derby and the factory-museum of Louisville Slugger.

I am a parishioner of Saint Martha Roman Catholic Church, located within the great Archdiocese of Louisville, formerly
the Diocese of Bardstown, Ky., first Catholic diocese west of the Allegheny Mountains and founded by French (of course)
Bishop Benedict Joseph Flaget.

As previously mentioned, I am Assistant Scoutmaster for Boy Scout Troop 194, sponsored by Saint Martha Roman Catholic Church.
---
Time and temperature in Louisville, Kentucky
Mike's other weather and forecast links for Louisville:
The Weather Channel
WHAS Radio (The 50,000-watt Clear Channel voice of the River City-840 AM Stereo)
WHAS-11 Television
National Weather Service Office- Louisville
---
Mike's World of James Bond 007


Want to see some cool stuff about our favorite action-adventure hero?
If you do, just click on the Rolex watch below from the film Live and Let Die (complete with buzzsaw and hyperintensified magnetic field!)


---
Bourbon pages
What is bourbon? Bourbon is the "champagne" of Kentucky. Bourbon is a kind of whiskey that comes only from Kentucky. By federal law, bourbon must be at least 51% corn and must be at least 80 proof. If the whiskey does not have these attributes, it's not bourbon! The following are a couple of home pages of two different companies that produce bourbon.

Maker's Mark (the world's best!)
---
La Francophonie (the French-speaking world)
All of the nations/provinces/territories/states/regions and their respective flags mentioned below represent the entirety of the French-speaking world as recognized today.

France (including Corsica, Saint Pierre and Miquelon, Guadeloupe, Martinique and Reunion)






Monaco Belgium Switzerland Luxembourg Canada Québec





Louisiana, USA Haiti Cambodia Laos Vietnam New Caledonia






Tahiti (French Polynesia) Algeria Benin Burkina Faso Burundi Cameroon
Francophone sites
Because I have such a great passion for the French language and for Francophone culture, I have listed below a few web pages that one can look at for info or enjoyment:
Le Musée du Louvre, Paris
Yahoo! France (great page!)
Yahoo! Canada
Le Monde
Paris Match
Le Figaro
La Mairie de Paris (et la ville)
Daily photos of the Eiffel Tower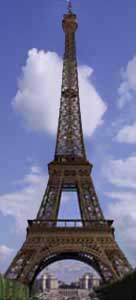 Paint the Eiffel Tower with the color of your choice!
Congo Ivory Coast Djibouti Gabon Guinea Madagascar






Mali Morocco Mauritania Niger Central Afr. Rep. Rwanda





Senegal Chad Togo Tunisia Zaire
---



This is my new section dedicated to one of my favorite places on earth: the magnificent nation of Canada. I fell in love with Canada during my first trip there in the summer of 1987. Naturally, I also take great interest in this nation because of its French heritage, as well as its British, Irish, and Scottish heritage, resulting in TWO official languages: French and English. As a probable future student at a Canadian university, the Université Laval in Québec City, Québec, I am once again trying to rekindle my interest in this beautiful country. I should also mention the fact that Laval University was the first university in Canada, as well as one of the first on the North American continent. It is also one of the ONLY universities in Canada, as well as North America, where instruction in completely in the French language. It is now with great pleasure that I present some of the many elements that make up the great nation of Canada.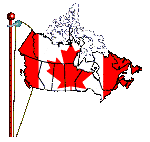 Did you know...?
Canada is the second-largest nation in the world, falling behind Russia and just ahead of China in size.
Canada has a population of only about 27,000,000 inhabitants, or roughly one-tenth of the population of the United States, but a much greater area than the US.
Canada now has 12 provinces, as a new province called Nunavut was formed.
In Québec, the date is written in decreasing order, unlike most other places: yy/mm/dd.
The queen of England (U.K.) is still considered an official head of state in Canada. She is basically considered a figure-head, as the prime minister of Canada acts as the executive head. The queen is represented by the Governor-General, who also has a say in governmental affairs.
The majority of francophone Canadians reside in the province of Québec (yes, its official name does have an accent over the 'e'), with a small amount of francophones dispersed throughout other provinces, such as Ontario. The Québécois are extremely proud of their French heritage, esp. language and culture, and this has caused strong tensions and upheavals in Québec, with those who speak only French (non English-speaking) being treated as a minority by anglophones even in such cities as Montréal. The francophones of Québec have constantly struggled to secede from the rest of the nation and to form a separate nation, not only to be independent, but to also preserve the language and way of life.
There are many elements of 17th-century French that are found today in certain areas of Québec. This is because the original French settlers arrived in the region of present-day Québec City during the 1600's, forming the colony of New France. Thus, the French language spoken at that time was passed on. Yet, one must skip ahead to the mid-1700's, when both the French and British occupied the eastern portion of Canada. This was the time when the French and Indian War came into play. The Native Americans/Canadians "teamed up" with the British, and as a direct result, the French lost the war. Thus, many French settlers were ousted, and much land was seceded to the British. It was at this time that much French influence on culture and life were severed. Therefore, there has been little modern French influence in some areas of Québec since the middle of the 18th century.
Now I will present some more Canadian culture to whet your appetites...
The official currency of Canada is the Canadian dollar, which is divided even further into 100 cents, just like the American system. The symbol, $, is usually written after the amount, and is sometimes accompanied by the abbreviation Can. The monetary descriptions are interchangeable in French and English, exc. the numbers. Here are some examples of Canadian currency: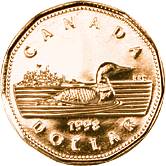 This is the one dollar coin. Canadians also call this coin a "loonie" because of the loon pictured.


The Canadian penny = 1 cent.





The cuisine of Canada varies from region to region, but many food staples used in Canadian dishes originate from the fact that Canada has a very harsh climate, as most of you know how harsh the Canadian winter is. It lasts much longer than ours in most areas (the cold temperatures, that is, not the season itself). Many areas have average temperatures of below zero for a few months during the year. Anyway, one will find that the Canadians relish foods that are extremely high in fat and carbohydrates in order to aid in keeping warm during the cold months (more energy). Such foods may include potatoes, beans, bacon, and cheese. There is even such a dish in Québec that is comprised of french fries covered with gravy and melted cheese. How's that for your heart? It all sounds rather tasty to me. Soups and bread are also quite popular (naturally a result of French influence). Speaking of keeping warm, there is also Canadian beer. Canadian beer tends to be slightly higher in alcohol content than our pitifully watered-down American lagers. There is also more flavor. Such popular brands include Molson (first beer brewery in North America)(this is also my favorite), Labatt's, and Moosehead. These beers are very hearty, and have a wonderful aroma. Below is an image of one of Molson's best beers, Molson Canadian. Click the image to visit the Molson website.


La province de Québec (the province of Québec)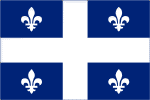 I would like to discuss the province of Québec a bit further, due to the fact that I will probably be studying there. As most of you know, Québec is the cradle of French civilization, language, and culture in North America. Outside of Europe, Québec is probably the most important center of the French language, even more so than Africa. This is because much of the language and culture of France passed on to the Québécois has been well preserved. As a testimonial to this loyalty to the French language and culture, the coat of arms adopted by the province of Québec shows this sentiment: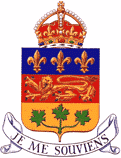 The motto just below the shield reads "Je me souviens," or, in English, "I remember." In other words, even in the official coat of arms, the Québécois manifest their pride in preserving their French heritage. Now, you may ask, "Where is Québec located?" Here is a map that I have provided for your convience in locating all of the current provinces of Canada: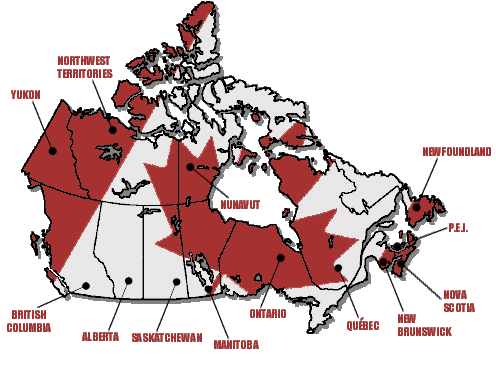 You will note that Québec is located in the eastern portion of Canada, and it is also one of the largest and most populous of all provinces. If you take notice of the large bay just to the east of Québec, you will see how it gets narrower as you move westward. This narrow point is where the Saint Lawrence River (Saint-Laurent, en français) empties into the Atlantic Ocean. This is one of the most important rivers in Québec, or in Canada, for that matter. It was the Saint Lawrence River by which early French explorers such as Jacques Cartier and Samuel de Champlain gained access to the areas around Québec City and Montréal.

Some of the larger cities (or more well-known cities) in Québec include Montréal (the second-largest French-speaking city in the world after Paris, France), Québec (City), Sainte-Foy, Trois-Rivières, and Jonquières. Most cities and towns in Québec have retained their original French names. If you ever get the chance to visit Québec, esp. Québec City, you will find that many areas still have an old European charm, leftover from French occupation. Almost all residents of Québec know some French, and some know only French. This has created some language barriers. All official signs and notices, including government statements, laws, public notices, or anything directed toward the general public, are in English and in French, throughout most of Canada. Sometimes one may find nothing written in English in some areas of Québec. One who speaks both languages has a major advantage. Vive le Québec!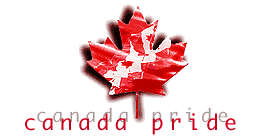 I hope that you have enjoyed the info I have provided about the great nation of Canada. There will be more to come, including information about some places that I have had the great fortune to visit. Please come back for more in the near future!
Thank you! Merci!



(the official logo of the Canadian government and tourism)

---
Russian pages
Here are a few pages in honor of this magnificent country which I had the opportunity to visit:


The city of Saint Petersburg
Moscow: celebrating 850 years!
The Moscow Metro (one of the best subways in the world!) (in Russian)
Russia.net
Saint Basil's Cathedral, Moscow
Orthodox Church (links)
The Hermitage Museum, Saint Petersburg (Europe's other "Louvre!")
Photos of Moscow
Photos of Saint Petersburg

---
Sign or view my guestbook!
Mail me at:
mike_haynes@hotmail.com
Last Modified 05/15/2000; or, la date à la québécoise, 00/05/15; or, à la française (européenne), 15/05/00